IRIDIUM SIRIUS PLEXIGLASS
RF MONO EAS SYSTEM 8,2 MHz 
Technical Specifications of Sirius Plexiglass

RF

Mono System:
Frequency: 8,2 Mhz RF
Weight: 17 kg
Power supply: 15V AC
Plexi Glass Antenna: luxury design
Construction: very strong
Material: transparent plexiglass with thickness 20mm, stainless steel box and base plate with
scotch brite surface treatment, plexiglass manufacturer guarantees 30-year warranty against yellowing
Alarm sound: piezo sirenne, 95 dB loudness
Alarm light: red colour LEDs
Option 1: blue illumination of plexi glass
Option 2: RGB lighting of plexi glass, it is possible to set any of 4096 colors combination
General information:
◉ Easy to install. It is a real "plug & play" mono system, no setup is needed
◉ It is possible to synchronize unlimited number of mono systems (by wire)
◉ Automatic synchronization is possible up to 6 mono systems (by air)
◉ Automatically detects mains frequency (50Hz or 60Hz)
Remote Control via internet:
◉ All parameters can be set up via remote WiFi internet connection
Electronic:
◉ Real time signal processing and SMD technology
◉ It detects "standing hard tags and paper labels" close to the antenna and signalizes it to the staff
◉ DC version is available, because of very low power consumption
◉ It is covered with thin metal cover. It is both for a noise protection and unauthorized
acts prevention as well. All important information are printed on the cover
◉ Very simple and easy to replace (a few seconds)
◉ Automatically adjusts the parameters for optimal detection of hard tags and paper labels
◉ The system detection tree is flat and possible to adapt according to the customer's
requirements
◉ Transmitting frequency is automatically shifted from 7,8MHz to 8,5MHz with steps of
100kHz and accuracy of up to 6kHz. It detects all types of RF 8,2MHz hard tags and paper labels
◉ There is no additional tuning needed
Dimensions: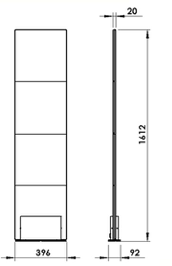 Detection distances table:
paper labels 3 x 3,9cm
2 x 0,7 – 0,8m
paper labels 4 x 4cm
2 x 0,8 – 0,9 m
paper labels 5 x 5cm
2 x 0,9 – 1,0 m
hard tags D50
2 x 1,15 – 1,2 m
hard tags D40
2 x 1,0 – 1,1 m
mini square
2 x 1,0 – 1,1 m
Detection of tags depends also
on their quality (Q-factor values)
Drawings and technical information of this data sheets issued for marketing purposes only and may not be reproduced or used to manufacture anything shown or referred to hereon without permission from IRIDIUM LTD.